A story from the American Humane Society...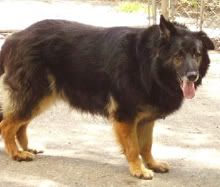 Khan, an 8-year-old German shepherd mix, was a beloved pet. But sadly, he was also becoming a heavy financial burden. Khan's caretaker, a single mother of two, had lost her home to foreclosure. She was forced to move in with a relative, who could not accommodate Khan.
In addition, Khan was suffering from a severe and extremely painful ear infection. Barely able to afford the basics for her children, Khan's caretaker could not provide the costly surgery that Khan needed.
Tragically, many people facing foreclosures are abandoning their pets, leaving them to suffer in deserted homes and yards.
Khan's caretaker, however, was intent on finding a more humane solution. With nowhere else to turn, she contacted her local shelter. It was her hope that Khan might receive medical treatment and be placed in a new, loving home.
But the friendly shepherd's future was still uncertain. Most animal shelters operate on shoestring budgets, and in today's tough economy they are struggling to help all of the pets that come through their doors.
The American Humane Society has a program called Foreclosure Pets Grants that are awarded to shelters seeking to help the animal victims of foreclosure.
Through American Humane's Foreclosure Pets Grants, Khan received the surgery he so desperately needed. He was recently adopted by a kind couple that lavishes him with love and attention.
You can find out more about the Foreclosure Pets Grant
HERE
. There are also tips Foreclosure Pet Resources available for download.
I was fortunate enough to find a new home (even if I do have to take a pill). Not ever victim of foreclosure is.
(For those of you that asked, my bum is feeling much better and I don't have nasty, smelly, run to the litter box every five minutes poops anymore. To my mind, that means she does not have to try to keep poisoning me with a pill anymore, right?)