It's SNOW!!! Yes SNOW!!! Right here in beautiful downtown Cape Coral! And just look at all of it: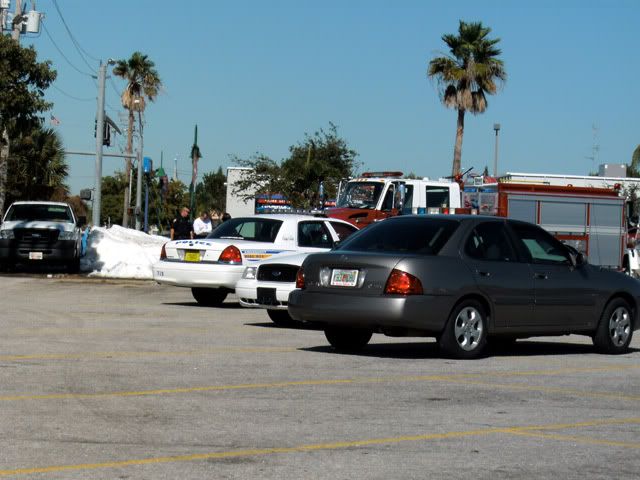 And of course, given our nearly non-existent crime rate, the cities finest were out there in force along with the Fire Department and an EMS unit to make sure no one stole it. Or maybe slipped on it and got hurt.
Eventually however, they got bored, barricaded it up, and went off to find something more fun to do: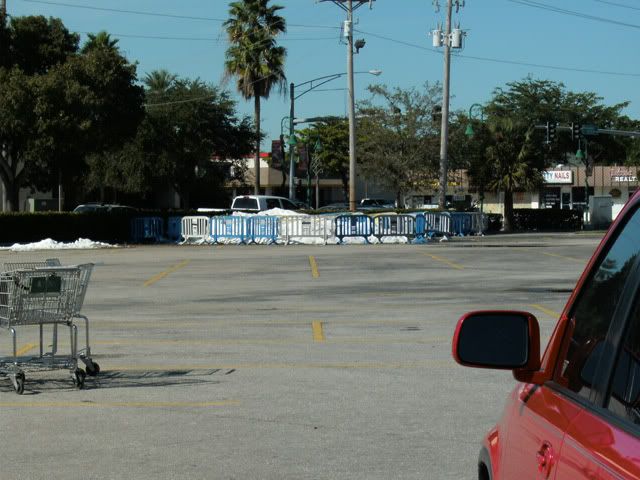 Oh, well...at least we don't have to worry that they'll be turning up
2-year-old dead bodies
, 26 cats, 3 opossums and a raccoon all living in a foreclosed house around here.
There's snow in Michigan too, and
Misty Whispurrs
needs a new garage door opener so she can let the outside kitties into the garage. Now that's one smart girl!
Over at
Rosa's Yummy Yums
, there are some really yummy pictures of tabbies! Be sure to stop by and check them out!
Beau, the Southern Gentleman Cat, is
Hosting a Mega-Auction
to raise money for Criz, Moki, Misty, Billy and Beau, and there are some really great things, like a Cory CX-CD109 Personal CD Player. You'll really want that for when my new album is released, so you can listed to it over and over and over (and over and over) again!
Part of the money raised at the auction will be going to by Moki some thermal winter wear, as he was caught playing out in the snow
along with a dozen other cats
: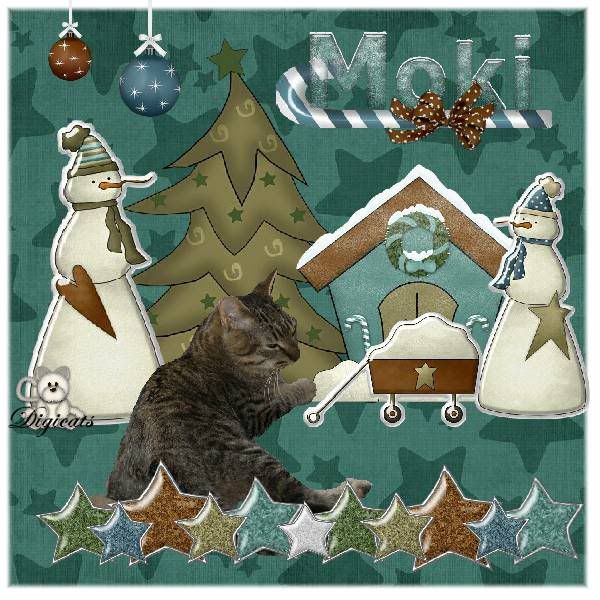 No wonder the cat warming pile as been doing double duty of late!
Of course, winter is not always a pleasant time of year for animals and it's wise to know about the
symptoms of frostbite
and how to treat it.
It's never gets quite that cold here in sunny Cape Coral, but
how do I convince the Message Therapist of this
?
Me-out? Please?
Over at the
Mind of Mog
Cece is taking over the Carnival of the Cats. And he looks like he's quite the huckster too:
The feline crew at
Paulchen's Food Blog
has decorated early for Christmas. Take a look at what they've done.
Wait a minute "food? blog?"
Did someone say FOOOOOOD????!!
Party MIX BREAKKKKKKK!!!!!
It's definitely not snowing over at
Sidewalk Shoes
, in fact, Smudge is wondering when they're going to invent kitty sunglasses.
Um...she might want to check out
The Cat Realm
, I think they already have them available!
What's Wally doing?
That's the question everyone wants answered!
No snow in California, but at
Catsynth
they are celebrating Thanksgiving and Luna's birthday a bit late. Or maybe they're just early for next year?
Rocky and the cat crew of Artsy Catsy
are also holding a very important auction, this one for Billy Sweetfeets. DMK has also donated
two snuggles to be raffled
off to benefit the crew at Meezer Tails in these economically troubled times.
Vampy Victor did a fun
6th Picture Meme
and he thinks everyone on the Cat Blogoshpere should do it.
I'm afraid out sixth picture Me-me would not be so interesting, as it pertains to the Night after Christmas in 2003 and an ice hockey game at the Miami Arena:
Where as you can see, not a creature was stirring. Not even a Miami Manatee.
Hey...you know how we all hate the sucky machine? Well this cat sure doesn't:
I think I'm gonna write Sandy Claws and ask for one of those for Kissy Mouse. How about you?
We have a new Weekend Cat Blogger joining us this weekend, please visit
Finding Sirius
and leave her a hello!
Hey! There's still time to join in the fun! Just leave a comment below and I'll add you to the next update!
Need more Cats? Don't forget to check out the
Bad Kitty Cats Festival of Chaos
hosted this week by
Samantha Black and Mr. Tigger
, as well as the
Carnival of the Cats
with CeCe and Meowza over at the
Mind of Mog
!