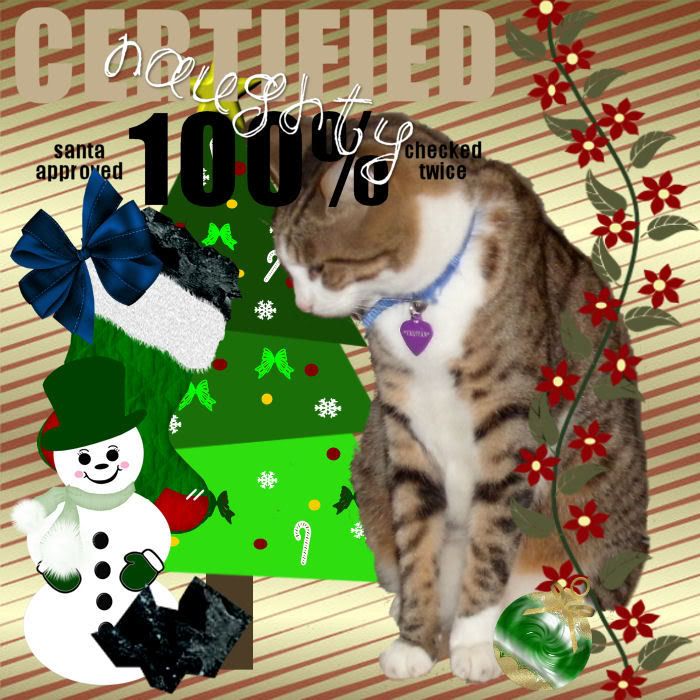 Well, friends, I guess it's time that I acted like a Mancat and fessed up and you knew the truth.
I was a
VERYNAUGHTY
little boy for Trismas.
First, I went where I wasn't supposed to go, trying to get at the feather toys that we're only allowed to play with under supervision.
Then I found an unattended bag of Zoom Around the Room(tm) catnip and ripped it opened and dumped it all of the floor. Then I face planted myself it in and got too nipped out to do my special Trismas concert.
Then, I got my butt beat for being such a bad boy and THEN I went back up where I wasn't supposed to go again (and knocked everything down on the floor including the massage therapists spare candles) and to make matters worse,
I did it right in front of the massage therapist after she told me not to do it.
Then I decided I was going to sleep in her bed and she was going to sleep on the couch and in the end...
I ended up sleeping in the corner in the kitchen with the Demon Cat standing guard over me.
And I got nothing but lumps of coal for Trismas and those aren't even fun to bat around.
Oh yeah, and I went outside and killed a lizard too, which I wasn't supposed to do on a day set aside for peace, love and understanding.
All I can say is though, if you've never face planted yourself in a mound of Zoom around the Room(tm) catnip, you should try it sometime.
That stuff is great!
(PeeEss: I suppose this is appropriate as I am hosting Bad Kitty Cats Festival of Chaos. As it's New Years, be sure to submit your post AND tell us your New Years Resolution. Mine is to find some more of that Zoom Around the Room(tm) catnip and face plant myself in it again.)