It was not a really good day yesterday AT ALL. From the time my Massage Therapist got up until until the time all the lights went out for the night, the Demon Cat From Hell kept picking on me.
She was acting badly, and so..all I wanted to do was escape. I stayed out as much as I could, but even then she'd run me out of the yard and when I tried to come inside for dinner, she wouldn't let me in the house.
When the Massage Therapist finally made her let me in so I could eat, she was all over my case.
So...okay...I was acting badly, Meowling and trying to get out the door but...can you blame me?
In the end we were both named
Bad Cats
and I got put in isolation so I would shut up.
And we both got rained on...a lot, and the Demon Cat even got spanked. And no one got any treats.
And on top of all of that my Rays lost to Philly again.
All I can say for Mancat Monday then is a Mancat has to persevere, even when he is clearly the undercat in a situation and a wrongly label victim.
Hopefully today will be better.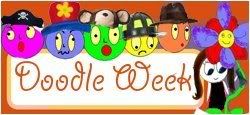 Now for today's doodle. The theme today is "Monster".
In this doodle, a stalwart Tabby Cat chases the hated Philly Phanatic monster around Citizen's Bank Park.
If you're a doodlin' fool, leave your link below.
If you're participating in Mancat Monday, leave a comment, 'kay?